(Please note: Page still under construction - more past national place getters info to come)
***NATIONAL CHAMPION***
2015 JUNIOR GRACEFUL GIRL  
PIPER HERTSLET
In 2015, Piper made history by not only becoming the first ever Queensland representative to place in the Graceful Girl section, she also is the first Queensland cali girl to be a National Champion. 
Piper won the 2014 and 2015 QLD Junior Graceful Girl State Championships and went on the represent Queensland at the 2015 National Championships held in the home state at the Gold Coast Performing Arts Centre. She performed her heart out and absolutely sparkled onstage with her talent, stage presence and technical ability. Along with her coaches Tarryn Short & Tahni Green and her entire family, Piper felt extremely proud of herself and her accomplishment. It was certainly a wonderful moment for celebration.  
Piper has been apart of Allstars Calisthenics Academy Inc. club since the age of 7 and has represented her state in both teams and a soloist. She is extremely hard working and dedicated and is a beautiful role model for all who wish to aspire to dream big and reach for their goals. 
Like her winning graceful to 'Cinderella' the music states "where there is kindness, there is goodness and where there is goodness, there is magic".  This moment not only for Piper but her coaches, family, club & state is an incredibly magical moment which will be cherished forever in hearts and in the history books.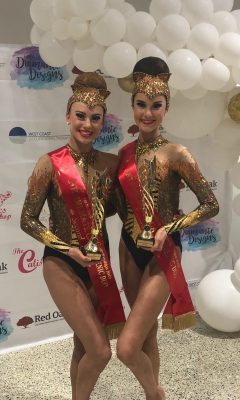 ***2nd  PLACE***
2019 INTERMEDIATE DUO
SOPHIE CLOUSTON & WHITNEY EDWARD
2019 was the first time Whitney and Sophie had done a duo together. It was also the first time they had both been coached by Dionne Benson and Christine Polglaze, but what a team! Both girls always worked with enthusiasm and dedication and clearly love performing and the sport of calisthenics. Training is not just about learning a routine and mastering new skills but having fun and making memories. There were so many laughs throughout the duo season. Whitney and Sophie placed second in both regional competitions but their goal was to become State Champions. They both put in their best efforts and achieved their goal. This then lead them to represent Qld at the 2019 ACF Nationals. Representing your state at National level is an absolute honour, to then take out 2nd place at National level in amazing completion is something to be super proud of. Both Dionne and Christine enjoyed every minute of working with Whitney and Sophie. Both girls are extremely grateful to have had this opportunity to share such an amazing experience together. A very special achievement to cherish.
***3rd PLACE***
2019 INTERMEDIATE GRACEFUL GIRL
PIPER HERTSLET
In 2019, Piper placed 3rd in the Intermediate Graceful Girl section at the 31st National Championships held in Perth. Her emotive and complex performance to 'Swan Lake' earnt her the incredible placing. She continually strives to be her best and works on learning new and complex technical skills and takes on constructive feedback from her coaches Tarryn Short & Tahni Green. 
Piper has been apart of Allstars Calisthenics Academy Inc. for over 10 years and has frequently represented Queensland in both Teams and as a soloist. She continually is a beautiful role model for all within our sport and hopes to inspire those who wish to follow their dreams and are willing to work hard to achieve them. 
***3rd  PLACE***
2019 INTERMEDIATE DUO
BECKY REID & JAZI WINDEYER
Becky and Jazi have been members of Calisthenics Buderim since they were Subbies. Throughout the past 7 years they have been competing in Solos, Duos and Gracefuls with wonderful successes. Their positive attitudes, work ethic and determination to improve has gained them National representation for teams and their soloist items in previous years. In 2019, Becky and Jazi placed 3rd in the intermediate Duo section at the National Championships held in Perth. Jazi and Becky agreed that "being able to step onto the stage and do what I love the most with my best friend is a moment I will forever cherish". 

***4th PLACE***
2016 INTERMEDIATE CALISTHENICS SOLO
LUCY SAMIN
Lucy started calisthenics at Suncoast as a Sub-Junior in 2010. Even as a young performer she was naturally gifted with such strength and control and was an absolute joy to watch on stage.
Lucy performed her first Solo & Duo in 2011 as a first year Junior & placed 3rd at the Queensland State Titles. The following year Lucy won both the Junior Solo & Junior Duo State Titles & went to her first National Championships - placing 5th in the Duo section with partner Chelsea. Many years later after achieving outstanding results at State Titles and Nationals for her Solos & Duos, she performed an Inter Solo to Poor Unfortunate Souls from Little Mermaid, a routine suiting her to a tee! After a fantastic performance at the Queensland State Titles to gain 2nd place she was selected to represent Queensland once again at the ACF National Championships in Adelaide. Lucy's performance was amazing & earnt her a 4th place at the National Titles.
Lucy, her amazing coaches Dionne Benson and Christine Polglaze & her family could not have been more excited at this fantastic result & we all very proud of her achievement. This was a huge success for her and the recognition of her placing was well deserved after all of her hard work & setbacks along the way.
Congratulations Lucy & Dionne! This is a huge accomplishment and it proves that with many years of hard work and commitment anything is possible!
***5th PLACE***
2017 INTERMEDIATE CALISTHENICS DUO
CHELSEA HUMPHREYS & LUCY SAMIN
In 2012, Calisthenics Duo partners Chelsea Humphreys and Lucy Samin placed fifth in the Junior Duo at the National Championships. Ever since, the girls focussed on emulating a place in Intermediate Duo at Nationals. On the day of competition, Lucy wrote a letter to Chelsea," If we nail it, we might have a chance against the bigger states." Their coaches, Dionne Benson and Christine Polglaze, also wanted them to have fun and sell their routine with great expression and precision. With nothing to lose the two Hercules Goddesses stepped on stage & earnt themselves fifth place in the Intermediate Duo Section. Chelsea Humphreys and Lucy Samin, members of Suncoast Calisthenics Club, have been involved in calisthenics for ten years & competed at the state and nationals level for over the last eight years in both team, duo and solo events. Together, both girls look forward to representing at State and National level in the future and strive to be positive ambassadors for their beloved sport.
***5th PLACE***
2012 JUNIOR CALISTHENCIS DUO
CHELSEA HUMPHREYS & LUCY SAMIN
Lucy & Chelsea were members of the 2012 QLD State Team & represented QLD in the Junior Duo Section at Nationals.  They did a gret performance to gain 5th place & the first QLD Duo to place at a National level.  Congratulations on this fantastic achievement!
***1st PLACE***
2012 CLOSED INTERMEDIATE GRACEFUL GIRL
SASHA THOMPSON
Sasha was honoured to represent QLD at multiple National Championships and now has calisthenics friends from all over Australia.
She was fortunate to have Dionne Benson and Christine Polglase coach her from 2012 to the present.  
Sasha is from Southern Stars Calisthenics and in 2018 she received her 5 year participation award for ACF Nationals.
 ***2nd PLACE***  

2013 CLOSED SENIOR GRACEFUL GIRL

***3rd PLACE***

2014 CLOSED SENIOR GRACEFUL GIRL